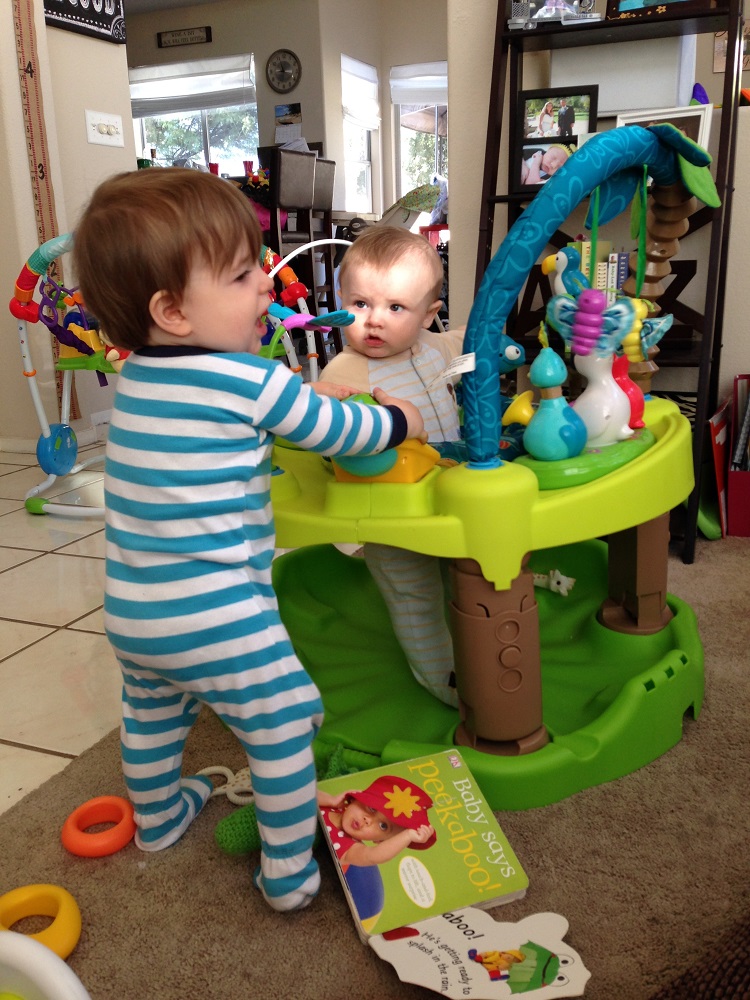 This was a busy and wonderful week for us.  Jenson got his cast off and was back to using his arm like normal.  I was nervous that it wouldn't be healed or he'd have trouble using it, but of course, he was fine.
His new things this week are repeating his name when I say it (and he says it really funny), he knows what a sock and doggy are, and he can say Max.  I'm quite sure I'm forgetting other things that he says, because he says so much.  He is also advancing his yoga moves.  For a few weeks, he likes nursing in downward dog, but this week he elevated that to three-legged dog.  So that's fun (it's not really).  The plan is to slowly start weaning him after we return from Vegas.  We'll start cutting his bottles with cows milk and I'll stop pumping at work when possible (can't wait!).
Finally, the biggest part of the week was our trip to Vegas to see my sister, brother-in-law, and sweet nephew Max.
Photo Favorites: November 2-9, 2014
This kid loves his books.
The last pictures of him eating with his cast on – and having to bag his arm for meals.
Heading to the doctors to get his cast off!
Showing Boof his cast-free arm
We hate leaving Boof when we go on vacation. Luckily our neighbors were happy to keep her for us.  Boof loves them and their dog Lincoln.  It was especially kind of them to watch her because they had the induction of their baby scheduled for the day we were returning!  (it got pushed until the following day – and they are all doing great).
Heading to Vegas!  We made a stop at the airport Chili's for a drink (I really wanted a margarita).
Jenson had some milk on the plane.
We were so lucky.  We didn't pay for a seat for Jenson this time because by the time we thought we may want to, his ticket would have been over $500.  We decided we'd take him as a lap child, but ask for an extra seat if the flight wasn't booked (so we could take his carseat on).  Southwest does that because the seats aren't assigned.  So he read for a bit, and then napped in his seat for about 2 hours.
Part of his awake time of the flight was spent making friends with the guys diagonal across the aisle.  They were great and were "playing" with him.  He just kept looking at them and laughing and smiling.  When we were feeding him, he'd look at them in between each bite like he was showing off.  It was hilarious.
In baggage claim.  I saw this ad and thought it was perfect for Jenson.  They do make him happy.
We arrived!  The last time we saw Max was in July, so he had changed a lot!  I love Jenson's face in the first picture – like he couldn't wait to get his hands on Max.
They spent so much time playing together the whole time we were there.  It was awesome.  Max isn't mobile yet, so if Jenson took something he wanted, he couldn't always get it back.  But they did great.  Max finally started snatching things that Jenson took when he could reach.
Cousin bath time!
He loves looking at himself in the mirror.
We left the boys with Max's nanny for a few hours (after Jenson was already in bed) and went out.  We went to Brooklyn Bowl for dinner and to listen to Dropkick Murphys.  It was a pretty cool place.  We parked near the High Roller – which is a ginormous ferris wheel – bigger than the London Eye.  This picture was taken from the rooftop of a huge parking deck, if that gives you any indication of the height of this thing.
More pics from the trip coming in the next weekly update…