This was an exciting week for us because it was our first doctor's appointment and we got to see that there is, in fact, a baby in there!  I'm not making light of the situation because I know too many women who went to their first appointment and learned that they'd had a missed miscarriage or false pregnancy.  Those first couple of weeks are so scary because so much can go wrong, so we were very relieved that everything was thus far okay.
(This is a look back on week 7.  I'm currently at 19 weeks, but want to get these all posted in order.)
Week 7:  Feb 26 – Mar 4
Baby Size: Blueberry – my favorite!
Maternity Clothes: Nope.  Bras will be the first to need upgrading though, specifically sports bras I think.
Sleep: I need it constantly still.  I did go a day without napping at lunch or after work.  Baby steps…
Symptoms: Constant need for sleep, sore knockers, constant nausea (but no puking), occasional baby brain (it's been better this week), having to pee at night (which totally sucks), I get out of breath at odd times and slightly more than usually (which I guess is all the hormones, not because I'm suddenly out of shape).  The nausea is in full gear and sometimes I sleep on the way too and from work because I feel so sick.  Lo is kind enough to drop me off at the front door of work so I don't have to walk the 3 blocks from the car.  It's also always freezing and I just want to be warm and not sick.
Workouts:  The fatigue and nausea still has me skipping some workouts, but I had two volleyball games, did heated yoga and regular yoga, and another standard workout or two.  We ended up deciding to tell my yoga instructor that I was pregnant this week because the week before in class she said "no handstands if you are pregnant, high blood pressure, etc.", and I honestly didn't think I'd be limited at what I was allowed to do in the first tri.  I was about to pop up into a headstand that day before she said that!  So I talked to her before our next class and she said I should avoid deep twists, binds, and full inversions (concern is with placenta detachment and such).   I love those parts of yoga and can get pretty deep in twists and binds, so that sucks to have to modify so early on.  I fully expected to have to take prenatal at some point, but I thought I could continue as usual until my belly got in the way.
I was also disappointed to learn that I'll have to quit playing volleyball sooner than I expected.  At first the nurse practitioner said "no more playing starting now".  That's crazy so I talked to the doc and she said she could give me until 12 weeks and then my uterus will be too high for it to be safe.  I know a lot of people who were allowed to play up until 20 weeks or more (!) so I was a little sad about that because I have a league that starts in two weeks that I was really looking forward to, and I'm going to have to find someone to play for me.  I was hoping I'd be allowed until at least 16 weeks, unless I show early.  But to be honest, I dive A LOT in volleyball (and land on my torso, not my knees) and I'm not sure of my ability to hold back all of the time and I would rather be safe than sorry.  Kelley has been told me for the last two weeks "no diving!", though it's technically still safe at this point – so she's probably happy to hear that the dr. supports her thoughts on it and I straight up won't be allowed to play.  That being said, I dove in a game last night (it was an amazing save, if I do say so myself), and I landed on my side/hip (so it was safe), but it hurt my boob so BAD!
Best moment of the week? Tie.  My sister, who lives out of state, emailed and asked if I was far enough along in my pregnancy to start telling people.  She doesn't know – only 2 people know so far – and we were planning on telling her next week.  We have had no conversation that would lead her to think I was – and only communicated via a few facebook messages and texts about her upcoming wedding.  I tried to answer in a way that made it sound like we weren't yet, but she was misunderstanding and then not buying my attempts to correct her, so I just told her that I was.  It's a weird sister connection that we have.  My parents are visiting her this weekend and I wanted to tell her afterwards so she wouldn't accidentally slip and tell them before we did (actually more so her friends slipping, in case she told them).  I'll still skype with her next week to tell her fiancé, but it was just crazy that she knew.  She said she told her co-workers 2 weeks ago that she thought I was, which was right around the time that we found out!  We are waiting to tell our families until after our first appointment.
That leads me to the second tied best moment – our first appointment and ultrasound!  Seeing that there is something in there is pretty amazing, though it still doesn't feel quite real – even with all of the symptoms.  Maybe when it starts to look like an actual baby.  What you're seeing in this picture appears to be a baby head on top of a lump of a body.  Actually, the baby is between the plus signs (crown to rump), and the round thing is actually the yolk sac.  The yolk sac will disappear in the next few weeks.  I don't know what yolk sac actually does, but apparently baby eggs have egg yolks too.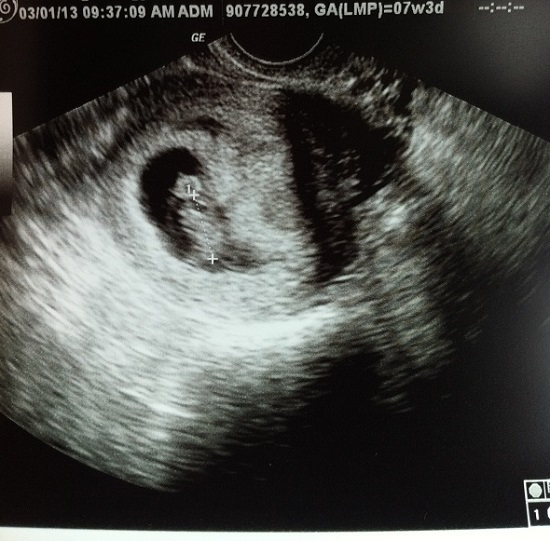 Movement: Nothing for a few more months probably
Food cravings: Very little.  Plaintain chips were a hit this week for a salty nausea helper.  I really wanted mangos for a couple of days, and fruit in general sounds pretty great to me right now.  Occasionally I'll think I'll want something, but then if I think about actually eating it, I'll get really nauseous – like with sweets.
Food aversions: Almost everything.  Food just sounds terrible to me.  Eating doesn't make me feel good.  I'm eating just enough to get by (and still try to workout most days).  Normally I love sweets, but I haven't had anything sweeter than a protein shake this week.  The other day I said I wanted frozen yogurt and then I literally gagged.  I also really want Easter candy in theory, but cannot think about eating it.  If that doesn't pass before easter, I'll be stocking up for later because Easter candy is my favorite (mmm, Cadbury mini eggs – how I would love to be able to eat you right now).  It's a little hard being GF and pregnant, because I can't just eat saltines if I'm not feeling well.
What I miss: Sleeping through the night without peeing, enjoying food
What I'm looking forward to: Telling our families over the next couple of weeks.  We are hoping to try to tell most people in person, but will only be telling family for the next couple of weeks.
Milestones: 1st ultrasound, first time someone asked me if I was pregnant (see above – luckily it had nothing to do with my body).