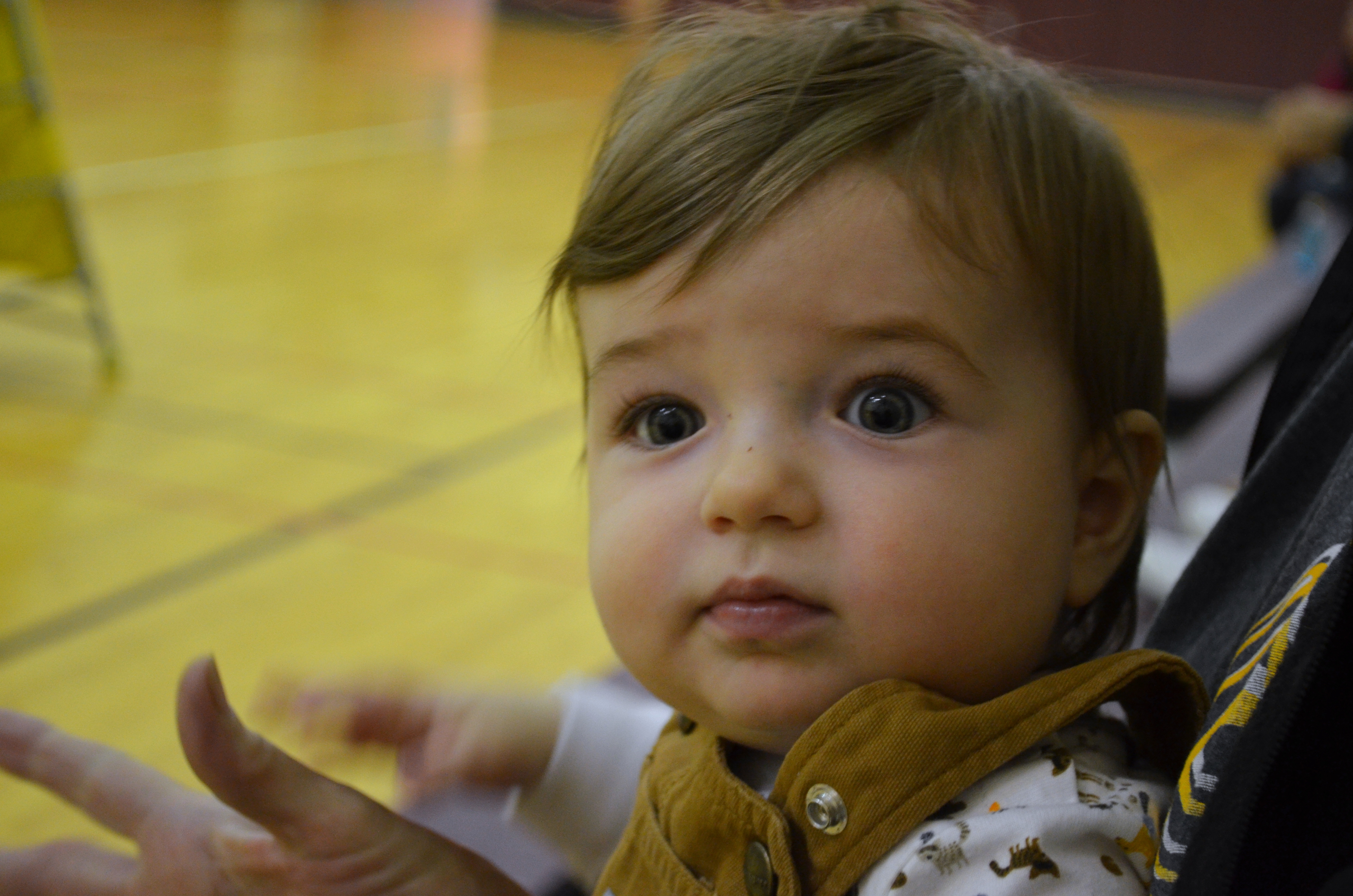 This was a rough week for Jenson.  He had a cold – was really congested and had a runny nose.  No surprise, he started sleeping pretty poorly this week (and it currently hasn't stopped).  He was waking a lot and needed extra snuggles in the night – he'd usually end up in our bed by 3 a.m.
He started imitating sounds all of the time now.  It sounds like he's saying "yeah" when I ask a question.  I was telling him to say pap-pap (my dad), and he would repeat "bap pap".  He would repeat the "mwah" sound when I kiss him.  He stands up against things all of the time – he loves being able to play with toys that he couldn't before.
Photo Favorites: September 8-14, 2014
1. One a walk with his sitter and Braxton (looks like Braxton is crashed out in the front)
2. Napping on our bed…his preferred place (that's our fault, but we love napping with him)
3. and 4. Playing with me on the couch
5. Playing with the doggie door.
6. Napping in our bed (again)
7. Flowers that Lo randomly picked up for me.  There was more variety, but the others died.  I really liked this color combination of the ones that where left.  (it was more coral than pink, unlike the screen shows)
8. A coworker picked one of these up for me when she went to get one.  First of all, if you've never had Jeni's Ice Cream, get it AS SOON AS POSSIBLE, even if you have to drive or fly to Columbus to get it.  The ice cream varieties are so good (and so creative), that I always choose ice cream instead of one of these sandwiches, but these sandwiches are SO good.  Possibly better than the ice cream.  Next time that I want to get Salty Caramel, I need to remember to just get one of these instead.  Queen City Cayenne is my favorite flavor of ice cream, but they no longer sell it by the scoop at the shops (crazy, because it was the first flavor she ever made).  You have to buy it by the pint, and pints are like $10.  To get my spicy ice cream kick, I usually get a scoop of Bangkok Peanut (spicy peanut butter) and something else (often Salty Caramel).
9. After the drive to my parent's house. I was excited that it was cool enough to wear my favorite flannel.  I've had it since middle school, and it was my friend's dads (we used to raid his goodwill bags).
10. Jenson giving my mom kisses.
11.  Hanging with gramma
12. My dad got home right when Jenson was getting pretty sleepy.  Someone sat him on Dad's lap, and he buried his face against him and just stayed like that.  We don't know if he was asleep or what.
13. At my niece's JV volleyball game.
14. Emma hitting the ball
15. Jenson playing with a ball in between games (love his Carhartt outfit)
16. Snuggling with Uncle Dave
17. Looks like he's into the game
18. With Lo
19. More ball play
20. Visiting with Emma
21. In the background, Lo looks like he's saying "what does the fox say?"
22. Modeling his new hat from Aunt Christine.  She just "whipped it up" the night before when I told her we were in town (after failing to tell my sisters ahead of time).
23. With Aunt Christine
24. Boof checking out the fox
25. Jenson returning the favor by checking out Boof
26. Playing with Gannon
27. Having a snack with a curious Boof looking on
28. Sharing.
29. Trying a monkey hat on for size (literally, so Christine can see if it's the right size for the baby who she made it for.
30. And a sweet owl hat
31. My niece took this picture of him.  I love it.
32. She took this one too – I think I need her to teach me, lol!  I tend to go for centered pictures, but these are so much more interesting.
33. So he has a little temper now and then.  He'll go from laughing to crying in one second if he doesn't get his way), and then back to laughing.'
34. With my baby boy.
35. A huge beehive in one of my mom's trees – it's really high up, so this picture doesn't do the size justice, even with the camera zoomed.
36. Cousins trying to teach Jenson how to fist bump.
37. Jumping fox
38. My niece can point her eyes in different directions – creepy!
39. Very excited about playing with a ball
40. After he threw it (with his left hand…fingers crossed for a lefty)
41. I woke up to this serious bedhead
42. He's like "what?"  Is my hair sticking up?
43. Visiting Aunt Jackie.  The outfits that I brought for him all happened to have foxes on them (and I had no idea she was making the hat).
44. High fives!
45. Lounging with Uncle Dave again…mesmerized with the ceiling fan
46. Eskimo kisses with Gramma-great
47. Sweet smile for her
48. Wearing a hat that my mom made with our high school name/mascot on it (probably for one of us or for my nieces)
49. Darn sticker again!
50. Temper!
51. Here's a good one
52. Boof howling for a treat
53. Hulking out
54. Up!
55.  Very excited about something
56. Clapping